SSD installed capacity has basically become the standard.
Many people have opted for 120GB to meet the demand for use, but with this year SSD prices continue to increase, many users installed began to turn their attention. They turned to smaller capacity products, now Faspeed would like to introduce SSD H5-60GB, to meet customer demand.
Both cost-effective, but highly effective, we strive to have high quality, affordable prices, giving consumers confidence when using our products, to promote the spectrum. SSD of Faspeed, promoting products and letting people know more about our products, so our SSD sells very low prices compared to some SSDs on the market.
"Low prices do not mean low quality." Manufacturers of Faspeed H5-60G and industrial wafer, IC components, withstand random shutdown 3000 times, read and write temperature limits of 70 tests, Durability and stability to ensure long-term use of SSD.
And use HLS core algorithm software, with advanced data editing capabilities for better data protection.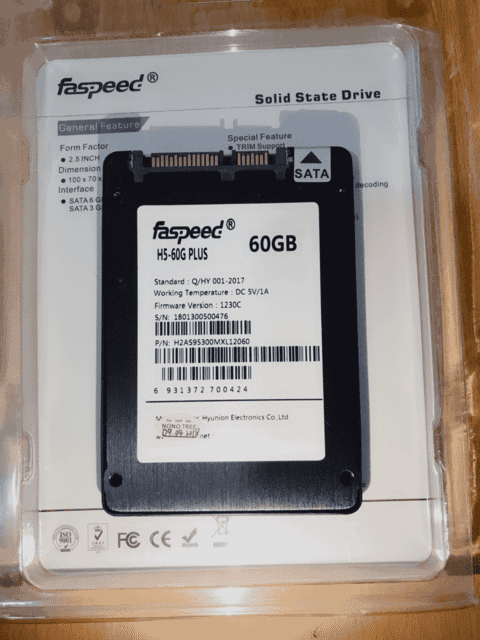 Internal Faspeed H5-60G has no mechanical structure, no noise, and no vibration and seismic fear.
Besides, H5-60G has extremely low power consumption, power consumption in the same condition only 1/3 mechanical hard drive, so your computer will be more stable.
Removing SSD: SSD Faspeed H5-60GB, it can be seen that the internal structure is not complicated, only one PCB board with one original and one wafer on the front and no components on the back.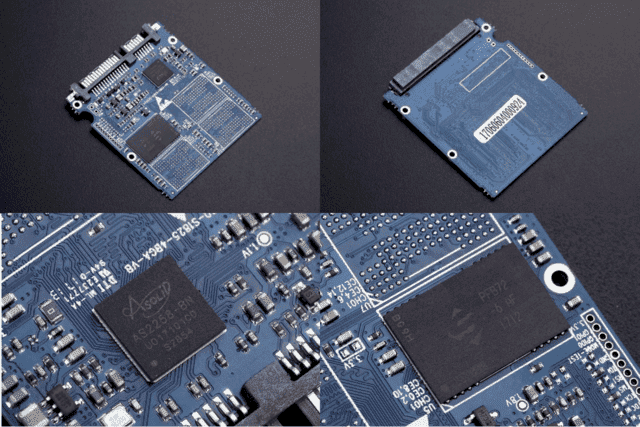 Test platform using Z170 + I7 6700K processor platform.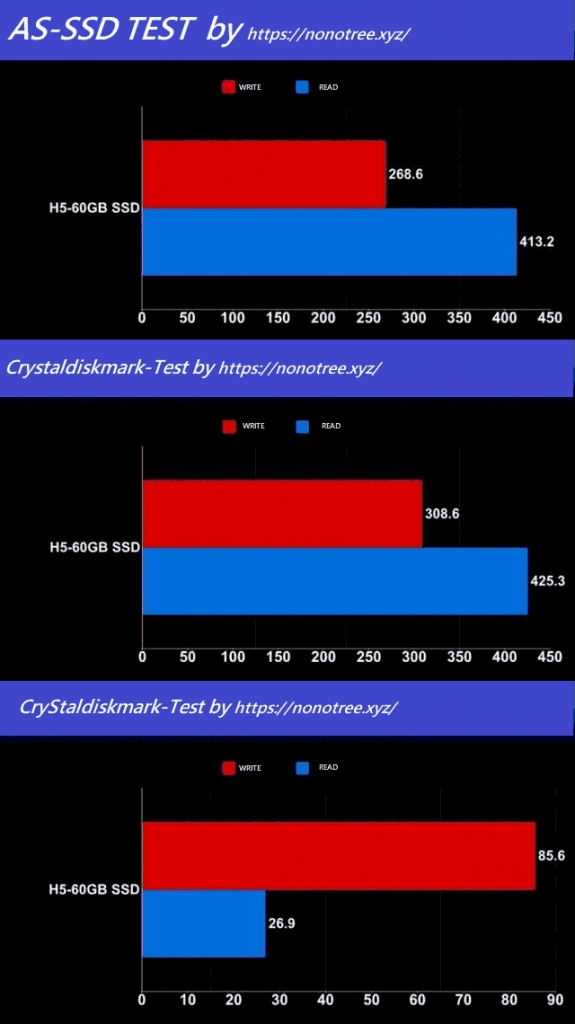 In the CrystalDiskMark test, the read / write performance of the H5-60GB SSD and 4K read / write performance remained excellent, with a read speed of 425.3MB/s and a write speed of 308.6MB/s.
In the 4K small read / write performance test, scored 85.6MB/s and read 26.9MB/s.
ATTO Disk Benchmark test, the SSD H5-60GB read up to 553.6MB/s, recorded to 522.8MB/s.
It can be seen from this experiment that this Faspeed H5-60GB SSD can achieve the average market performance, besides, this product is very convenient in terms of price, now our Faspeed H5-60GB SSD is located in SHOPEE for only VND 630,000. Being a smart, sophisticated user, this product will be fully qualified in both capacity and performance. Is the best option to buy.